Opening Eyes and Rising Up For Blindness
Earlier this month CRBF was able to share our mission at Novartis Pharmaceutical in Boston. Novartis now owns the rights to Luxturna, a gene therapy that treats LCA-RPE65 blindness, in all countries outside the United States. After meeting at a large life sciences conference in 2019, CRBF CEO, Kristin Smedley, and Novartis VP, Global Head of Translational Medicine-Ophthalmology, Melissa Lieu, worked together to create an informative presentation about living with blindness for Novartis
The presentation was informational and inspirational.
The CRBF team realizes the importance of research. It is the reason we started our mission in 2011. However, we quickly realized the need for resources for blind children and adults to live independently and to thrive without vision until the day an option for sight is available. The CRBF funds research, raises awareness about resources for living with blindness, and changes perceptions of blindness. It's no small feat to work a multi-faceted mission, but it's important work that we are committed to.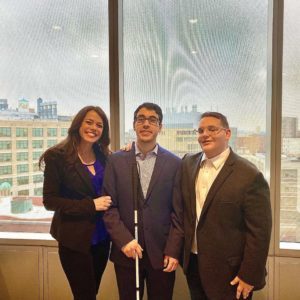 Kristin, Michael, Christian
In an effort to educate the Novartis audience on different perceptions of people that are affected with blindness, Kristin invited two extraordinary young men to help deliver an exciting program. Her oldest blind son, Michael, is a twenty year old college student. Michael is blind due to LCA-CRB1. He is thriving at Penn State University and succeeding without sight in all areas of his life. Christian Guardino is a twenty year old recording artist and America's Got Talent finalist who was born with LCA-RPE65. Christian received Luxturna (gene therapy) that restored much of his vision. Christian is succeeding with sight in all areas of his life.
Kristin opened the presentation at Novartis with a compelling speech enlightening the standing room only crowd about how a person that is blind can do just fine if there is access to tools and resources for literacy, independence, etc. She also presented the financial impact that raising two sons with a rare blidnness has had on her family. Michael demonstrated the technology he uses every day to access his schoolwork, navigate a very large campus, and have a vibrant social life. He wow'd the crowd with the speed of his "voice over" feature on his iphone and had everyone in awe of just how much he accomplishes in a day – which is an overwhelming amount regardless if you are blind OR sighted! Christian articulated what life was like before and after gene therapy. His story of seeing the moon for the first time brought the audience to tears. And when he performed his rendition of "Rise Up" he brought the audience to cheers in a standing ovation.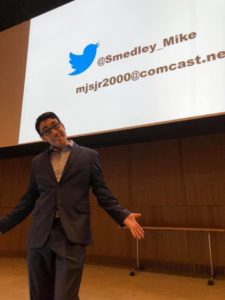 CRB-1 LCA patient and presenter, Michael Smedley, Jr.
The most compelling part of the program, however, was the panel at the end of the program where each of the young men expressed the joy that each of their lives are. They are living exactly how they want to live, one with vision, one without. They are equally enjoying their lives and having extraordinary success. Best of all, the underlying message received by all was that both of the young men are very grateful to those that work towards treatments as well as those that work toward accessibility.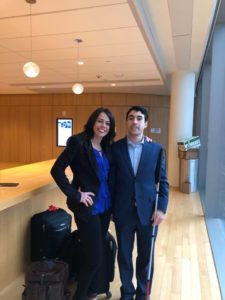 CRFB CEO Kristin SMedley and her son Michael.
To round out the day, Kristin pointed out that her role in this organization, and as a Mom of two CRB1-LCA patients, is to coordinate research for options for sight, in addition to connect to resources to thrive without sight. It is our role, in her opinion, to give the patients options and respect their choice of which route they wish to take.
If you are wondering what the audience at Novartis thought of the program:
"unforgettable and inspirational"
"Incredibly moving and inspirational."
"Thank you all for an amazing inspiring event. You thanked us for what we do but we owe you tons of thanks for making us know that what you do can make a real difference in people's lives. And I loved witnessing all of your amazing talents!!"
"Such an inspiring and motivating event for us scientists!"
The CRBF is so grateful for the opportunity to share this presentation at Novartis and incredibly grateful to the LCA and inherited retinal disease community for always jumping in to collaborate and spread awareness TOGETHER!
Views: 2,900